Curriculum Ordering Instructions
Summary
Here are brief instructions of how to order curriculum materials through the web store:
Go to cog7.org, and click on the menu item "Online Store."
Click on the shop item "Standing Order for Curriculum Materials."
Fill the boxes with the desired quantities for each item.
Click "Add to Cart."
Click "Checkout."
Enter your billing and shipping details.
If this is your first time, choose a password.
Enter your payment details (credit card or check).
Click "Place Order."
Welcome
As you may have heard, the BAP will no longer process invoiced standing orders.  All payments must be made in advance.  To help facilitate this, we are allowing customers to place standing orders through the CoG7 web store.  Once a standing order for curriculum materials is placed using a credit card or checking account, payments will be automatically deducted from that account every quarter.
Below are instructions on using the CoG7 web store to place a standing order for curriculum materials.
Enter the Church of God online store
Go to the Church of God (Seventh day) home page at cog7.org .  Find the link for the online store.


 Find the correct shop item
To create an order for materials that will be automatically renewed, find the shop item that says "Standing Order for Curriculum Materials."  The "standing order" part  is important.  There are many items available on the CoG7 webstore available for immediate purchase, but only the standing orders will be renewed automatically every quarter.


 Choose your materials
Choose the quantity of each item by editing the values in the boxes to the left.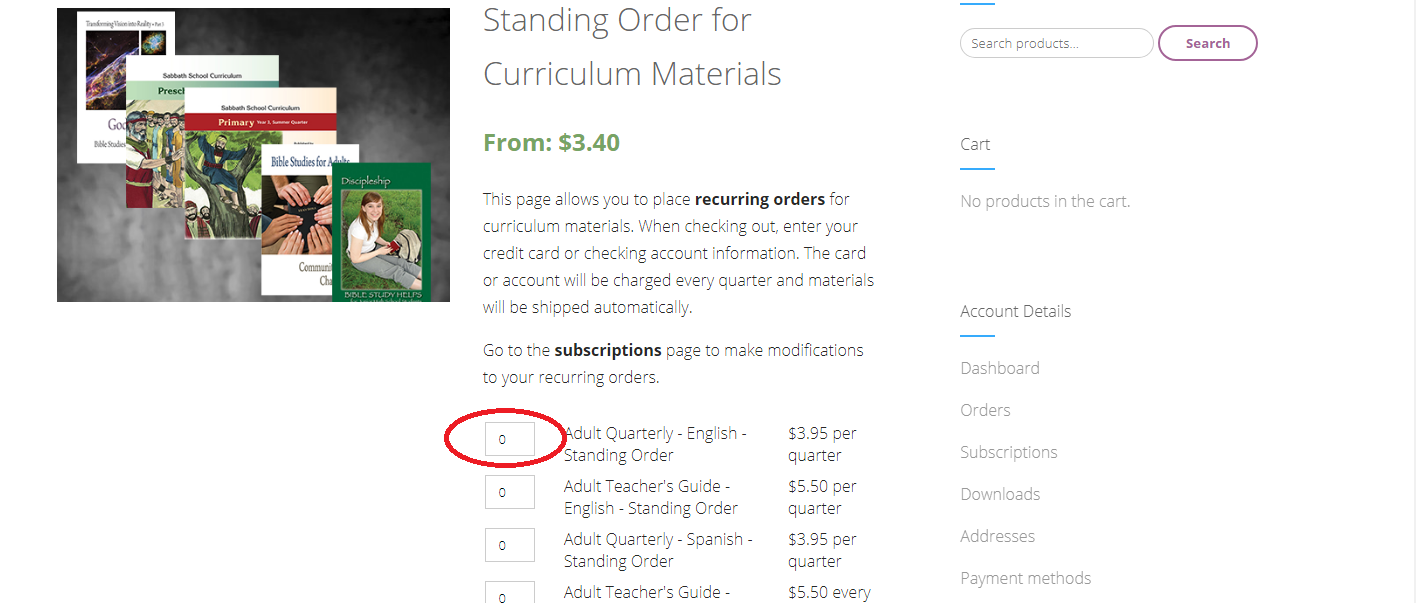 Add to Cart
Once you have chosen all the correct quantities for your curriculum order, click "Add to Cart." The items in your cart should appear on the right hand side of the screen.


Checkout
When you are ready to pay, find the button that says "Checkout." This will begin the payment process for anything that was added to your cart.


Billing and Shipping Details
Enter your billing and payment information in the spaces provided. If the order is for a church, put that church's name under "Church Name."
Make sure to select the type of shipping you would prefer. "Media Mail" is usually the least expensive option for large orders.
Special Note: If you had a standing order for materials for your church, you should already have an account number. Please write this account number in the section labeled "Order Notes." Let us know that you had a previous standing order, and what the account number was.


Enter Payment Information
Fill in your credit card (or checking) information in at the bottom. Your account will be charged once every three months. When you are done, click the "Place Order" button.


If you have problems or questions you may contact us. For questions about your order, email bap.orders@cog7.org. For technical questions, e-mail webmaster@cog7.org. You may also call our office during (303-452-7973) business hours.
Shortcuts
Feel free to bookmark these links:
CoG7 Online Store
Shop Page: Standing Order for Curriculum Materials
Shop Page: Standing Order for Curriculum Materials (Digital Only)